1. Perform a standard gastroscopy to observe any sign(s) of abnormal mucosal structural defect that would suggest a known gastrointestinal disease. In the case of any mucosal abnormality observed on endoscopy, the endomicroscopic procedure may not be applicable.
2. Inject contrast agent intravenously.
3. To establish a baseline, perform Cellvizio imaging on the duodenum at a minimum of 4 sites (about 20 seconds each) to verify mucosal integrity (i.e., no contrasting agent leakage into the lumen) prior to any provocation.
4. Through the working channel of the endoscope, apply one food allergen onto the duodenal mucosa, starting from the distal part.
Leave space between each provocation site

Start with the food allergen that will less likely trigger a reaction
5. Wait for 2 minutes after the application of food before starting imaging and observe
If the observed reaction is positive (CLE+), conclude the test.

If the observed reaction is negative (CLE-), extract the probe, flush with saline in the channel, and move to the next site.
6. Repeat steps 4 and 5. Before applying a new allergen, move the endoscope to the new site towards the proximal end of the duodenum.
7. The test should conclude about 30 minutes after the injection of the contrast agent due to the increased risk of false positives. Eventually, the contrast agent will be visible in the lumen (but with no cell shedding).
Suggested Concentrations for Most Common Food Allergens7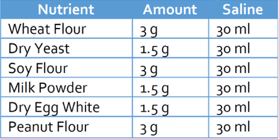 Cellvizio Image Patterns and Interpretations7:

Major Publications on Endomicroscopy for Food Sensitivity:
Fritscher-Ravens A et al. Confocal Endomicroscopy Shows Food-Associated Changes in the Intestinal Mucosa of Patients With Irritable Bowel Syndrome. Gastroenterology 2014;147:1012–1020. Link
Fritscher-Ravens A, Pflaum T, Mösinger et al. Many Patients With Irritable Bowel Syndrome Have Atypical Food Allergies Not Associated With Immunoglobulin E. Gastroenterology. 2019 Jul;157(1):109-118. Link (Ref 3)
Study Summary to download
50-60% of IBS patients may have a nonclassical food allergy

96% of CLE + patients experienced an improvement in symptoms

68% of CLE+ patients experienced over 80% improvement within 3 to 6 month of allergen exclusion
Kiesslich R, Adib-Tezer H, Teubner D et al. Endomicroscopic detection of atypical food allergy in patients with irritable bowel syndrome – a new diagnostic era? DDW 2020, Su1344 (Ref 5)
Kiesslich R, Review of Endomicroscopy Diagnostic value of endomicroscopy for gastrointestinal diseases New possibilities and concepts.Techniques and Innovations in Gastrointestinal Endoscopy (2020). Link (Ref 6)
Functional imaging with endomicroscopy for diagnosing atypical food allergies has a great potential to establish as an additional part of standard care for food allergy diagnosis
Kiesslich R, Endomicroscopic Diagnosis of Atypical Food Allergies New method White paper 2020. Click to download (Ref 7)
Explanation of the procedure
Fritscher-Ravens A, Exclusion of atypical food allergens detected by confocal endomicroscopy is superior to low fodmap diet in patients with food-sensitive IBS. AGA ABSTRACTS| VOLUME 158, ISSUE 6, SUPPLEMENT 1, S-135, MAY 01, 2020. Link (Ref 8)