REAL-TIME IN VIVO CELLULAR IMAGING
Cellvizio® lets you see precisely what's occurring in the human body, at the cellular level in real time.
Know precisely where to target biopsies. Examine cells from inside a nodule. Discover previously undetected lesions.
See the immediate impact of a drug on cells.
It's visibility on a micro level, with macro potential to transform patient management and care.
MONITOR


The progression of disease over time
Detect and monitor cellular changes in vivo which cannot be observed any other way
(GERD/Barrett's Esophagus, Gastric Diseases, Colorectal Lesions)

ASSESS


Point-in-time reactions, as they happen in real time
Observe and understand cause-and-effect responses to determine the optimal course of action
(IBS Food Allergies, Inflammatory Bowel Diseases)

CLASSIFY


Indeterminate areas of concern
Confidently characterize areas of interest in areas where conventional disease screening returns ambiguous results
(Pancreatic Cysts, Bilio-Pancreatic Strictures)

GUIDE


Surgical interventions
Plan, intervene and treat more precisely with image-guided surgery
(RFA, EMR/ESD, molecular imaging, drug delivery)
---
Latest Clinical Data at DDW 2021
Lectures & Posters
All times U.S. Eastern (GMT -4)
Watch Our Most Popular Webinars From Our Webinar Library
| | |
| --- | --- |
| | The replays are available on DocMatter and you can learn how Cellvizio® allows you to accelerate diagnosis, more accurately inform treatment, and develop better therapies. |
IBS Food Allergy Testing (FAST)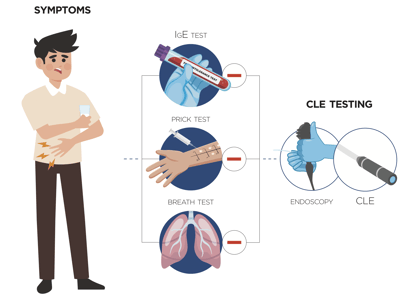 Have you heard about the new method for identifying atypical food allergies using Cellvizio®?
Learn more about the IBS Food Allergy Sensitivity Test (FAST) procedure and access a wide range of tools and information:
- Introduction and live case webinar
- Clinical studies, image pattern criteria
---
Society Endorsements and Recommendations for Cellvizio